STRENGTH TRAINING YOUR HANDS. SPECIAL ADVICE:
Strength training the hands and forearms is a specialty all onto itself. A subject I have studied for nearly 30 years. Through history few things are as admired as great hand strength. Almost anyone within a year or two can become almost superhumanly strong in the grip. Train the grip just once a week and be sure never to strain yourself. Hand and finger injuries are very very slow to heal (if at all). Always do less than rather than more..but lift progressively (with ever increasing weights) and you will be amazed at your progress. Nail bending, as an exercise, has been omitted from this course because of how easy is is to hurt your fingers performing nail bending.
A company called IRONMIND (http://www.ironmind.com) is the only place I know that sells special equipment for building the hands. Their products and books are recommended.
You should train the hands and forearms separately from your other lifts. Becareful not to strain your fingers or thumbs. Pinch gripping things that are too wide for your hands is especially dangerous as is one finger lifting. That being said you can build fantastic strength in your grip and forearms in just a few years. Anyone can do it. Even if you can't walk, are generally weak and unathletic you can still build outrageously strong hands.
GRIP TRAINING PART ONE:
GRIPPERS: Toss the grippers in the trash (the ones at Walmart). You need heavy duty grippers, they don't sell them at the local store. IRONMIND sells come heavy duty ones.
WIRE CUTTING
Cutting wire with small cutters (makes it hard) is a fantastic way to build the grip. You want a crushing grip? Try this exercise for several months.
PLIER LIFTING
Lifting with pliers can be a great exercise. You need a pliers and a bucket (like an old paint bucket with the wire handle). Make a loop out of cloth or leather, pass that loop around the handle of the bucket and with the handles upward (and the clamp facing down) grip the cloth with the pliers and lift the bucket. Fill the bucket with sand or water or weights.
GRIP MACHINE

IRONMINDS grip machine is great for this exercise. You can also build you own grip

machine. Either way, using this type of device is great for the grip and the forearms will blow up using this exercise.

GRIP TRAINING PART TWO:
PINCH GRIP EXERCISES (THE FINGERS)
Gripping blocks of various widths and weights is a great way to develop the pinch grip.
WOOD PINCH
Pinch grip pieces of timber or boards. If the wood is too heavy cut some off. Longer pieces can be pinch gripped and used to perform exercises like rows or curls. Here is an example: Stack two pieces of six foot 2 by 4 on top of each other, pinch lift them together and perform a curl. You can build a fantastic pinch grip this way. (IRONMIND sells a pincher as well)
Cut a 1/2" inch hole in a 2 by 4. Pass a chain through the hole that you can use to add weights. Attach weights by passing the chain through regular weight discs and hooking with a carbiner (snap-clip). Pinch grip the 2 by 4 and lift the entire assembly, practice using heavier and heavier loads. Pass the wooden block form hand to hand.
PLATE LIFTING (FIGURE C-1)
Same as the timber. Pinch weights together and lift the plates to hip height. Be careful the weight don't slip from your hand and land on your feet! Use the entire hand or use only select fingers. Exercise using a variety of weight and finger combinations. I like to use 2 or 3 smooth sided five pound discs (see Figure C-1) with a chain through the middle to add more weight. Any wider than 3 plates is too much for my hands, with the chain you can add unlimited weight to the exercise.
My favorite is pinch gripping three, 10lb plates and passing the weights from hand to hand. I go till the weight slips out of my hands.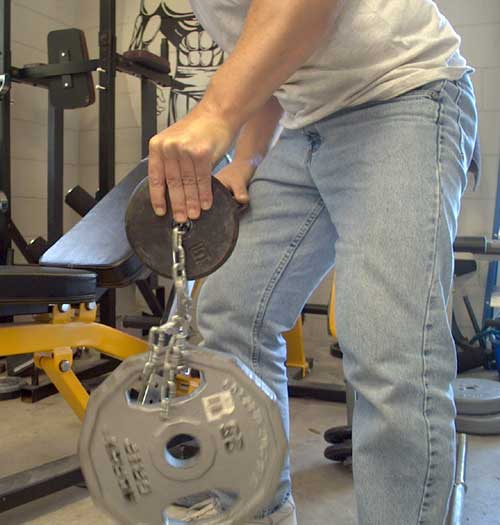 P
FIGURE C-1: Pinch Gripping Smooth plates. Add more weight with a chain as shown.
CO-AUTHOR DAN BURKE SHOWN PERFORMING HAND AND FOREARM EXERCISES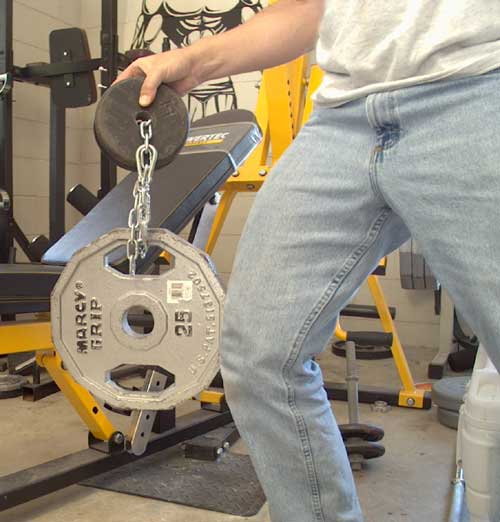 LIFTING BLOCK weights
Purchase some solid type dumbbells. Hack saw off the handles, now you have 2 perfect block weights. Pinch gripping the blocks for reps is an awesome exercise. Toss the block from hand to hand. Concrete blocks can be made or purchased cheaply. They come in many sizes and shapes. Practice pinch gripping a concrete block. Pinch 2 together and lift them.
ROPE CLIMBING. FINGER LIFTING.
This works. The bigger you are the harder it is to hold on. Lifting weights with ropes attached to them works jut the same. Pass the loaded rope from hand to hand.
Use just the fingers, like little centipedes on the side of the rope, to raise the rope (you can do this with a sledge hammer handle as well). Using just the fingers to raise a weighted rope or hammer is a great finger exercise.
RING PULLING and 1 FINGER LIFTS
Lifting weights with one finger by placing a single finger through a ring ( 2" in diameter) with a weight attached to one end, is very dangerous. Chinning, deadlifting and so on , with 1 finger and so forth is equally dangerous. My advice is avoid 1 finger lifts. You can really mess up your hands.
TELEGRAPH KEY

IRONMINDS makes a machine that you push down with individual fingers (like a piano) and perform grip "crushing" with as well. A fantastic exercise machine, and a great exercise that you can do sitting in a chair. It's the plate loaded telegraph key. I guess you could make one if you were a welder, or even out of wood. Basically it is a miniature see-saw that you can add resistance to. The fingers push down on one end of the see-saw, while the weights are stacked at the other end.

BOOK LIFTS
The opposite of this (crushing exercise) is to lay your hand flat on a table and place a heavy book on your fingers. Lift the book with one finger at a time for reps.
SAND EXPANSION
Another way to work these "hand opening" muscles is to plunge the hand with fingers together (or in a fist) into a bucket of sand and then force the fingers open, resisting against the force of the sand. In place of sand: You can use rice, beans, ballbearings, cookie dough, and almost anything you can think of to perform this exercise
SURGICAL or EXERCISE TUBING (SEE FIGURE B-1)
Wrap surgical tubes around the fingers and open the hands strongly. The bands provide the resistance. This can be done with exercise tubes (as shown in Figure B-1) as well. Just wrap it (the band) around your fingers and flex the fingers outward.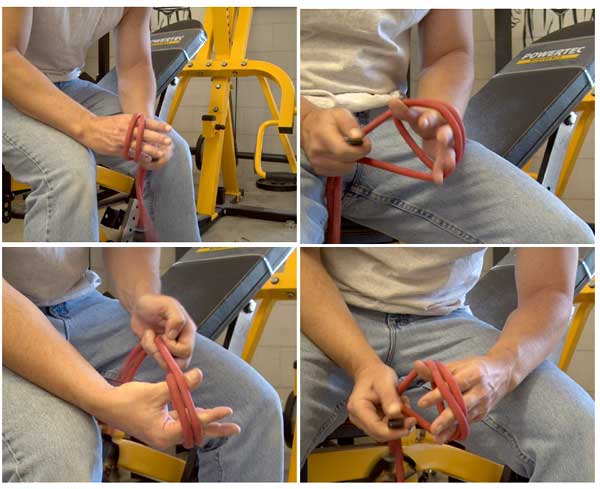 FIGURE B-1: Exercise Tubing Figure Expansion Exercises. These really work. Work up to 3 sets of 10 to 20 reps.
CO-AUTHOR DAN BURKE SHOWN PERFORMING HAND AND FOREARM EXERCISES
GRIP TRAINING PART THREE:
FOREARMS and GRIP EXERCISES

FIGURE A-1 THE BASIC LEVER WRIST CURL (thumb up)
FOREARMS and GRIP EXERCISES
WRIST TWISTS and CURLS with DUMBBELL LEVER
Dumbbell lever exercises.( FIGURE ONE) Load weights on one end of an adjustable dumbbell. You have just created a lever dumbbell. Grab the handle somewhere in the middle. Perform wrist twisting: holding the lever dumbbell weights like a torch (weight side is the "flame" end of the torch, (pointing up like in FIGURE ONE) (FIGURE TWO), turn your wrists slowly from left to right. I like to do it seated, resting the forearm, with the hand holding the dumbbell, on my leg, like you were going to do a wrist curl. Then I twist the dumbbell back and forth, over my knee, turning the wrist. Be careful, you don't you too much weight at first. This exercise builds the forearms chord muscles to an extreme degree.
FIGURE ONE: The Lever Dumbbell
DUMBBELL LEVER WRIST CURLS. LEVER LIFTING
FIGURE A-1: Hold the weights(the weight end of the lever dumbbell) in front of the hand (like a flashlight) and behind the hand (like a shovel handle). Grab the handle as far down as you can. Lever the weights up and down. That is a front lever. As you get stronger hold the handle further and further form the weighted end. You can do these to the front and the back as shown in the pictures.
FRONT AND REAR LEVERS:
For clarity let's look at that exercise again: FIGURE THREE: The standing front lever wrist curl and the standing rear lever wrist curl. Both exercise are performed standing (and are very different than the seated version of the front lever or wrist curl) with the arm hanging at your side. The movement comes from the wrist raising the dumbbell.
These exercises are two entirely different lifts and work the forearms to the maximum. Perform levered wrist curls both "front" and "back" as suggested and amazing forearms will be yours. IRONMIND sells a lever bar.
FIGURE FOUR: The lever wrist curl. A fantastic exercise that is great for the forearms.

(SEE PHOTO)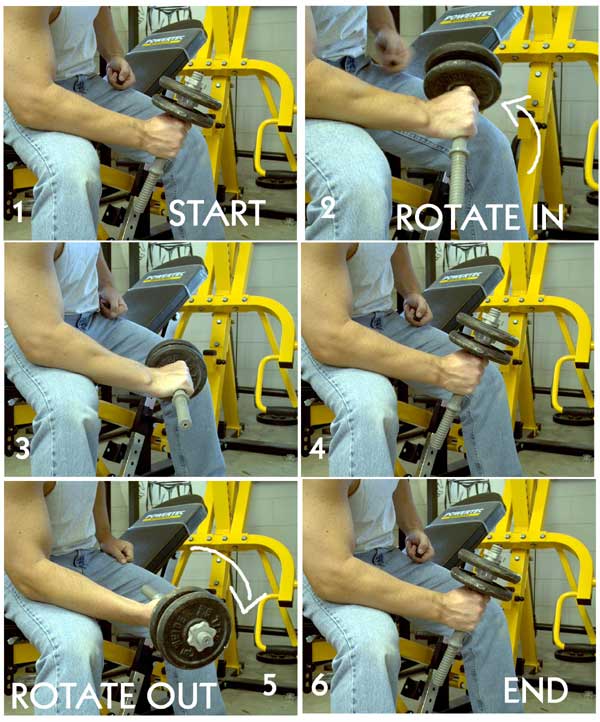 FIGURE TWO
Wrist Rotation LEVER EXERCISE
CO-AUTHOR DAN BURKE SHOWN PERFORMING HAND AND FOREARM EXERCISES
FIGURE THREE

REAR and FRONT STANDING LEVER EXERCISE

LEVERS PERFORMED TO THE BACK and TO THE FRONT. Try to perform a full range of motion as the arrows indicate.

FIGURE FOUR: Wrist Curl (palm up)
GRIP TRAINING PART FOUR:
THICK HANDLED BARS and DUMBBELLS
I made mine from plumbers pipes. (FIGURES FIVE and SIX) I run chain through the pipes and attach weights to the chain. It's crude but it works. I do lever forearms with my plumbers pipe as well (FIGURE SIX). You could invest and have special bars made by a welder. It's easy. Buy thick steel pipe and have it fashioned into a weight bar and dumbbells. Another way is to add tape to the handle of a bar or dumbbell. Wrap tape around that handle till you have a 2" diameter bar. As you progress add more tapemaking the handles thicker.
Using thick handled bars is awesome for the grip. Performing curls, chin-ups, rows and many other exercises using a thick bar does amazing things to the forearms. I suggest a 2" to 2" and 3/4" thick bar. Thicker than that (3" and beyond) and your thumb could get injured.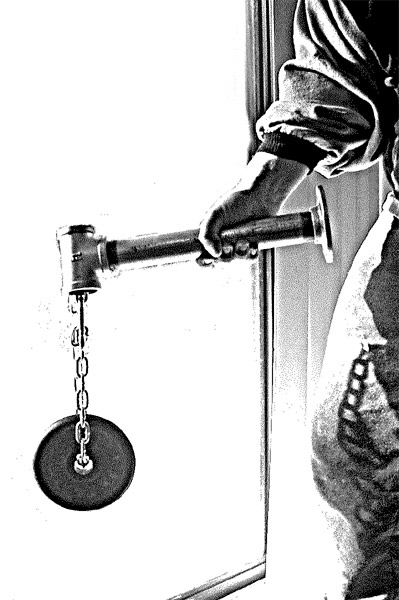 FIGURE FIVE Lever exercise with thick grip plumber's pipe. This will blast the forearms.
Total cost: $17.00 from the hardware store.
Besides forearm work this pipe has another great use: I use it as the weight stack pipe for my hip belt squats. I can stack almost 200 lbs horizontally on that pipe using Olympic plates.
FIGURE SIX: Reverse Lever exercise with thick and long plumber's pipe. You can do them to the front of course as well. Fantastic strength developer.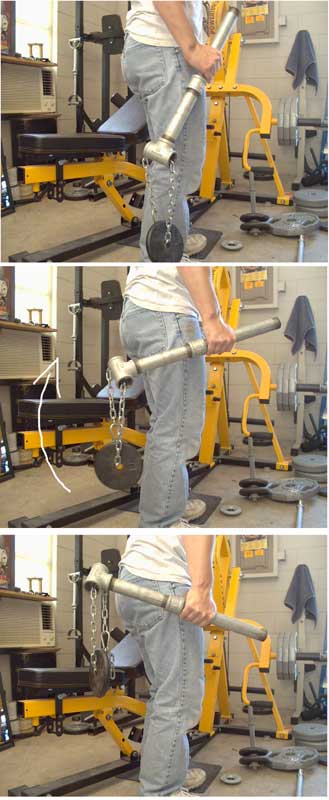 CO-AUTHOR DAN BURKE SHOWN PERFORMING HAND AND FOREARM EXERCISES
GRIP TRAINING PART FIVE:
BARS AND WEIGHTS
Regular wrist curls. Reverse wrist curls. Hammer curls with dumbbells. Reverse curls. I like all 4 of these for forearm work. I especially like reverse curls on a preacher bench.
Curling with weight discs and wrist curls with weight discs, is another way to increase the grip and forearm strength. Once a week I do curls with the Olympic weight discs that have the spaces in them (for your hands to hold onto), it's a very unique feel.